London:
Ministries:
Other:
Womens Day North London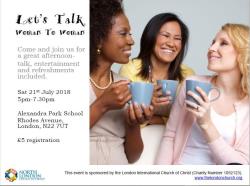 Join us for our exciting women's event, 'Let's Talk, Woman to Woman'. on Saturday 21st July.

Anyone who buys into the lie, "You can have it all" or thinks she can only be happy 'if…....' experiences a dissatisfaction, because what she wants always remains just out of reach. No matter how good she has it, no matter how good the good times get, there is always something missing and ultimately she misses out on the happiness she craves. But God desires something far better, more lasting and He has given us the secret in his word. Real satisfaction is found in living for, and longing for, the right things....... Let's talk, woman to woman, about the secret of contentment.

Date: Saturday 21st July 2018
Time: 5pm to 7.30pm
Venue: Alexandra Park School, Rhodes Avenue, London, N22 7UT.
Women of all ages are invited including teenagers and pre-teens (12 years +).

Price: £5.00 (includes a talk by our guest speaker, entertainment and light refreshments).
Online registration closes Friday 20th July 2018.
Please click here to register and pay

Please note that this event is for women only and is organised by a Christian faith-based group. However, we welcome women of all faiths and backgrounds and love learning, sharing and growing together.

Other useful information:
• No formal childcare will be provided.

• Nearest underground station: Bounds Green, Piccadilly Line.
• Buses: 102, 184 or 299 to Victoria Road bus stop.
• Limited car parking is available at the venue. If you are coming by car, please park considerately on nearby streets.

• Our event takes place in the main school hall on the ground floor. There is disabled access.

Refunds: Your payment is generally non-refundable. If you need to cancel, please e-mail and let us know as soon as possible. Any refund requests will be processed at the discretion of the North region of the London Church of Christ and may incur an administration fee.