London:
Ministries:
Other:
MOTHER and DAUGHTER RETREAT 2018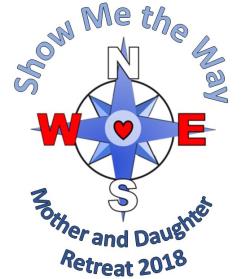 Show Me the Way!
Saturday 15th September (9:00am) – Sunday 16th September 2018 (3:30pm)

THE RETREAT IS FULLY BOOKED.

This year the Mother and Daughter Retreat (5-10 years) will take place at the fabulous Lee Valley Country Park in Hertfordshire and the nearby De Vere Theobalds Estate.
The retreat will start on Saturday in the park at the YHA London Lee Valley, only a few minutes from Cheshunt train station. This newish YHA has great conference rooms which we will use as our base for the day…registration will take place here as well as our annual craft. We are really hoping for great weather: an orienteering trail has been planned to test our map-reading skills and we will play sports, have a picnic and just sit in the sun!

After a full day at Lee Valley Park we will travel to the hotel, the De Vere Theobalds Estate, where we will have dinner and then watch a movie.
On Sunday we will have a full morning: optional dancing, craft activities and games; a short communion service; and Bible study and activities on the topic of "Show Me the Way!" in age-based devotional groups. After lunch we will meet together to close out the retreat and then those who want to use the facilities and spend time in the grounds can stay around until 3:30pm.
You can check out the venues with these links...
YHA lee Valley
Lee valley Country Park
Theobalds Estate

This retreat is open to our friends and family, that is, mothers with daughters who are 5-10 years old!
_________________________________________

ACCOMMODATION:
We have a mix of twin-bedded and double-bedded rooms. All rooms are en-suite.

MEALS:
YHA Lee Valley - please bring a packed lunch with you to YHA Lee Valley. Light refreshments and some snacks will be provided.
Theobalds Estate - dinner on Saturday, breafast & lunch on Sunday is inlcuded.

CHECK-IN and CHECK-OUT:
Saturday - YHA Lee Valley. Registration is in the Theobald Suite from 9:00 to 9:30 am.
Sunday - Departure Theobalds Park latest 15:30 (3:30 pm)

PRICES: Please note the "subsidised" prices include the subsidies agreed by Belfast, Birmingham, Dublin, Edinburgh, Glasgow, Leicester, London and Manchester for their members. The "normal" prices are for all other churches and for friends and family.

£123 - Mother and ONE daughter SUBSIDISED
£163 - Mother and ONE daughter NORMAL

£157 - Mother and TWO daughters SUBSIDISED
£208 - Mother and TWO daughters NORMAL

£191 - Mother and THREE daughters SUBSIDISED
£253 - Mother and THREE daughters NORMAL

£82 - Mother and ONE daughter CAMBRIDGE church members only

The Early Bird prices above are available until 27 August midnight or until capacity is reached. If spaces are still available the price will go up by £20 on 28 August.
THE RETREAT IS NOW FULLY BOOKED.

ICCM church members - We do not wish for anyone to be unable to attend on account of cost and would suggest that if you are in a situation like this you speak to your local leadership team.

Once the booking is completed, you will receive a confirmation email.

CANCELLATIONS & REFUNDS: Please note that payments are generally non-refundable. If you need to cancel please let us know as soon as possible. Any refund requests will be processed at the discretion of the ICC Missions Trustees and may incur an administration fee.