London:
Ministries:
Other:
FATHER AND SON RETREAT 2018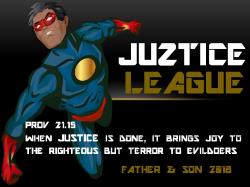 Friday, 27th April (17:30 hrs) to Sunday, 29th April 2018 (after lunch, 13:00/1pm)
Gilwell Park, Chingford, Waltham Abbey, London E4 7QW

FULLY BOOKED. To anyone who has registered, a bulletin was emailed to you from Richard Lee on Monday. If you have not received this please check your spam box or email [email protected]

*****************************

Our annual residential retreat for fathers and their 5-10 year old sons is going to be a memory-making time away from everyday life.

Our theme is JUSTICE LEAGUE. For this year's Father and Son retreat we plan to grow in our unity and the special bond we have as fathers and sons; to experience and take part in Godís Justice, In a world where there is so much injustice.

The programme will include outdoor activities provided by Gilwell Park, our own activities, worship times, great home-cooked food and lots of fun!

We have invited Uwa Bazuaye and his two sons to speak at a special class for fathers only on Saturday afternoon whilst our sons are entertained by retreat volunteers. Uwa and his family live in West London.

This retreat is open to our friends and family, that is, fathers with son(s) 5-10 years old!
_______________________________________________________________________

VENUE: Gilwell Park is one of several scouts activity centres around the UK and is situated in 108 acres of woods and parkland. We will be using the Conference Centre for our Saturday night programme and Sunday morning worship service.

ACCOMMODATION: Accommodation is in purpose built lodges and one log cabin. Some rooms have wash facilities (en-suite) and some do not (standard). Most families will be sharing a room with another family. There are a few two-bedded rooms a well as 4 bedded, 6 and 8 bedded.
En-suite: Jack Petchey and Peter Harrison Lodges have rooms with their own wash facilities and toilets. Branchet Lodge also has a few rooms en-suite
Standard: Branchet Lodge also has rooms with shared wash facilities.
_______________________________________________________________________

ACTIVITIES: As part of our Saturday morning programme we will have one activity session provided by Gilwell Park. When you register you will be asked to give a 1st choice activity and a 2nd choice activity. Please select one activity for each choice from choices below.
The age ranges and choices are:
5 years plus: Grass Sledging (dads can watch & cheer) / Pedal-Go-Karts
6 years plus: Grass Sledging / Pedal-Go-Karts / Aeroball / Archery / Climbing / Low Ropes (dads must be 18 stone or under) / Revolving Climbing Wall / Team Building.
8 years plus: Any of the activities above / Aerial Trek / Jacobs Ladder / Medium Ropes (dads must be 18 stone or under) / Wobbly Pole / 3G.
The Pedal-Go-Karts are always popular - priority will be given to 5 to 7 year olds and 1st timers.

For ACTIVITY descriptions - under Featured Activities - and for DIRECTIONS to Gilwell Park please click here.

CHECK-IN and CHECK-OUT:
Friday - Check in from 17:30 (5:30 pm)
Sunday - Departure latest 13:30 (1:30 pm)

PRICES: Prices reflect room type i.e.en-suite or standard.
ICCM churches (includes 25% subsidy)
EN-SUITE
£118 - Father and ONE son
£177 - Father and TWO sons
£236 - Father and THREE sons

STANDARD
£108 - Father and ONE son
£162 - Father and TWO sons
£216 - Father and THREE sons

Friends and family, other churches
EN-SUITE
£158 - Father and ONE son
£237 - Father and TWO sons
£316 - Father and THREE sons

STANDARD
£150 - Father and ONE son
£225 - Father and TWO sons
£300 - Father and THREE sons

Support with finances? We do not wish for anyone to be unable to attend on account of cost and would suggest that if you are in a situation like this you speak to your local leadership team.

Please click here to register and pay

As there is only one family unit space left the price is still at the early bird price (original deadline 15 April 2018).

REFUNDS: Please note that payments are generally non-refundable. If you need to cancel please let us know as soon as possible. Any refund requests will be processed at the discretion of the ICC Missions Trustees and may incur an administration fee.