London:
Ministries:
Other:
FATHER and SON RETREAT 2017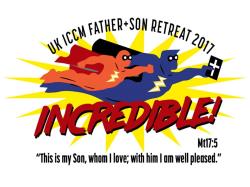 Gilwell Park, Chingford, Waltham Abbey, London E4 7QW
Friday, 7th April (17:30 hrs) to Sunday, 9th April 2017 (after lunch)

THE RETREAT IS NOW FULL.

You are invited to "INCREDIBLE!", our annual residential retreat for fathers and their 5 - 10 year old sons!

A special time away from everyday life where we can spend time with our sons and make memories with them, their friends and other dads.

The programme includes outdoor activities provided by Gilwell Park, our own activities, worship times, yummy food and fun!

This year our retreat has an "incredible" twist! There will be a special class on Saturday for fathers only (while the helpers entertain your sons). It will be led by one of the London church elders, Paul Rowden, and his son Daniel. Their lesson will be centred around the principles taught in the book "Raising a Modern-Day Knight". You are being encouraged to purchase/borrow the book and read as much as possible before the retreat.

This retreat is open to our friends and family, that is, fathers with son(s) 5-10 years old! You may be asked to room with your invited friend/family member.
__________________________________________

Venue: Gilwell Park has been a favourite for many a father and son retreat! It is one of several scouts activity centres around the UK and is situated in 108 acres of woods and parkland. We will be using the Conference Centre for our Saturday night programme and Sunday morning worship service.

Accommodation: Accommodation is in purpose built lodges and one log cabin. Some rooms have wash facilities (en-suite) and some do not (standard).
En-suite: Jack Petchey and Peter Harrison Lodges have rooms with their own wash facilities and toilets. Branchet Lodge also has a few rooms en-suite
Standard: Branchet Lodge also has rooms with shared wash facilities.
We try to house each family in their own room however depending on numbers it is possible you may share with another family if you are in a larger room or accompanied by friends/family.

Recommended reading:"Raising a Modern-Day Knight: A Father's Role in Guiding His Son to Authentic Manhood". Author: Robert Lewis (Tyndale Press). Available formats: hard back, soft back, used, Kindle and audio on various book websites.
___________________________________________

ACTIVITIES: As part of our Saturday morning programme we will have one activity session provided by Gilwell Park. When you register you will be asked to give a 1st choice activity and a 2nd choice activity. Please select one activity for each choice from choices below.
The age ranges and choices are:
5 years plus: Grass Sledging (dads can watch & cheer) / Pedal-Go-Karts
6 years plus: Grass Sledging / Pedal-Go-Karts / Aeroball / Archery / Climbing / Low Ropes (dads must be 18 stone or under) / Revolving Climbing Wall / Team Building.
8 years plus: Any of the activities above / Aerial Trek / Jacobs Ladder / Medium Ropes (dads must be 18 stone or under) / Wobbly Pole / 3G.
The Pedal-Go-Karts are always popular - priority will be given to 5 to 7 year olds and 1st timers.
For descriptions please click here and scroll down to Activities.

DIRECTIONS: Please see web link below..

CHECK-IN and CHECK-OUT:
Friday - Check in from 17:30 (5:30 pm)
Sunday - Departure latest 13:30 (1:30 pm)

PRICES:
Belfast, Birmingham, Leicester and London churches - subsidised price (shown on left).
Friends, family - normal price (shown on right).
Other churches - please ask your local leadership group which price applies for your church.
Prices reflect room type: en-suite or standard.

En-Suite
SUBSIDISED ------------------------- NORMAL
£104 - Father and ONE son - £138
£156 - Father and TWO sons - £207
£208 - Father and THREE sons - £276

Standard
SUBSIDISED ------------------------- NORMAL
£90 - Father and ONE son - £124
£135 - Father and TWO sons - £186
£180 - Father and THREE sons - £248

We do not wish for anyone to be unable to attend on account of cost and would suggest that if you are in a situation like this you speak to your local leadership team.

PLEASE CLICK HERE TO REGISTER AND PAY

The registration deadline has been extended to Sunday, 2nd April at midnight OR when capacity is reached.
Bookings taken after this will incur a £20 admin fee per family. Please book early to avoid disappointment.

REFUNDS: Please note that payments are generally non-refundable. If you need to cancel please let us know as soon as possible. Any refund requests will be processed at the discretion of the ICC Missions Trustees and may incur an administration fee.


Downloads