London:
Ministries:
Other:
AINT IT FUNKY HI FIVE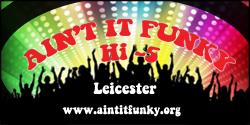 Saturday, 3rd February 2018, from 19:00 (7 pm) until 24:00 (12 midnight)
The Y Theatre, East Street, Leicester LE1 6EY

Hi-Five !! Come & join our 5th year celebration of Ainít It Funky!!!!!

It is THE annual 80ís & 90ís themed fundraising night organised by the Leicester Church of Christ AND all profits go to HOPE Worldwide UK!

Hi-Five hi-lights will include the ever-popular ĎHi-Five Lip Sync Battleí, the giant screen 'Wii Just Dance Off' and arcade games like Pac-man & Space Invaders! Take your picture in our Polaroid Photo booth or simply indulge in some Old School Tuck Shop sweets!

There will be an eclectic mix of music from the 80's & 90's!!.....
Pick your decade and dress to impress!: AIN'T IT FUNKY 5: HI FIVE

To avoid disappointment on the door - buy you tickets in advance for this family friendly event!

Tickets are available now and the prices are:
Adults @ £7
Students & Concessions @ £5
Under 10's @ £2

Please note if tickets are still available on the day there will be a £3 surcharge on the door!

Booking Note: Booking more than one person? The registration questions only come up once. Please either book one person at a time OR make sure you record information for each person in each question or use "additional information".

Once the booking is completed, you will receive a confirmation email. This email is your ticket. Please bring a copy or scan with you on the day.

Please click here to register and pay. Tickets are also available via the Ain't It Funky website (same prices and conditions but with a small booking fee).
_______________________________________________

Getting to The Y Theatre:
By Train ~ Leicester rail station is across the road from the venue AND itís only 1hr 9min from London & Birmingham and 2 hrs 9 mins from Manchester!
By Car ~ East St, LE1 6EY. There is plenty of free parking around The Y and there is a NCP next to the venue.
By Coach ~ St Margaretís Coach Station is a short 15min walk away.
_______________________________________________

FAQs
Who are HOPE worldwide UK and what do they do? HOPE worldwide UK is a Christian faith based charity with the dual mission of:
1. Overcoming poverty in the UK and overseas.
2. Mobilising volunteers in pursuit of this.
Two specific projects are ODAAT (One Day At A Time) offering services for substance misusers who are serious about recovery and Two Step which supports single homeless people to access and sustain long-term accommodation. HOPE worldwide UK
Is there food included? A hot food buffet is being sold on the night (this includes vegetarian options) and there is an old school tuck shop for sweets.
Will it cost me more to buy a ticket on the door? Yes, it will be an extra £3 per ticket on the door so we would advise you purchase your tickets in advance.
Do I need to dress up? Over the last 5 years most people do get into the 80ís or 90ís theme and dress up. This year we will be awarding special prizes for the best dressed!
Is it family friendly? YES it is. When we first started Ainít It Funky, we wanted to create a fun, safe space for all the family to enjoy something from the night- be it the music, dancing, games, the food or the company.

Further information including suggestions of where to stay can be found at Ain't It Funky 5 info

Refunds: We regret that we are unable to refund any tickets.