London:
Ministries:
Other:
NORTH WEST LONDON GALA DINNER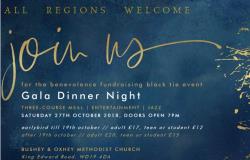 Saturday 27 October
ďAll the believers were one in heart and mind. No one claimed that any of their possessions was their own, but they shared everything they had. With great power the apostles continued to testify to the resurrection of the Lord Jesus. And Godís grace was so powerfully at work in them all that there were no needy persons among them. For from time to time those who owned land or houses sold them, brought the money from the sales and put it at the apostlesí feet, and it was distributed to anyone who had need.Ē
‭‭Acts‬ ‭4:32-35‬ (NIV)

ONLINE REGISTRATION HAS NOW CLOSED. A LIMITED NUMBER OF TICKETS ARE AVAILABLE ON THE DOOR. PLEASE CONTACT CHRISTINE IF YOU HAVE ANY QUESTIONS.

The North West region of the London church are holding their annual Gala Dinner on Saturday 27 October to raise funds for benevolence which is inspired by the passage above in Acts 4. From time to time there are financial needs amongst us. We are called as christians to help those in need; each other and our neighbours. The funds raised will go towards helping us do this in 2019.

We are looking forward to an excellent evening filled with food, entertainment & some jazz music.

Doors open at 7 pm with a complimentary welcome drink.
The programme is scheduled to start at 7:15 pm.

Bushey & Oxhey Methodist Church Hall, King Edward Road, Bushey, WD19 4DA.

If you have any questions please contact [email protected]

Refunds: Your payment is non-refundable.