London:
Ministries:
Other:
AUTUMN STUDENT RETREAT 2017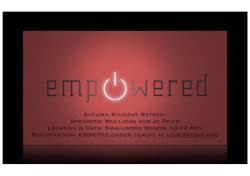 Friday 10th (18:00/6 pm) to Sunday 12th November (14:00/2 pm) 2017

Smallwood Manor School, Marchington, near Uttoxeter, Staff, ST14 8NS
09.11.17 - THE RETREAT IS NOW FULL

We are very excited to have 'empowered' as the theme for this year's Autumn student retreat. Mulligan and Joanne Price will be preaching through 2nd Corinthians and teaching us how we have been empowered by God and his Holy Spirit. The Prices' have been disciples since the late 1990's and have served faithfully in God's kingdom. Before going into the full time ministry, Mulligan worked as a teacher and Joanne as a social worker. They now serve as ministers in the Belfast Church of Christ and have seen God do amazing things there. The have two great kids Isaiah and Psalm. Most recently the Prices have been appointed evangelist and women's ministry leader. We look forward to hearing them teach us from the word of God, the Bible, and from their personal example. We are all sure to walk away 'empowered' to make a difference for God from this retreat.
____________________________________________________________

ACCOMMODATION: Smallwood Manor is a country house set in 50 acres of the beautiful Staffordshire countryside. During the week it is home to a local school but at weekends opens its doors to groups wishing to have some time away together. We have held student retreats at Smallwood Manor for several years! Accommodation is dormitory style. Duvets and pillow are provided – you must bring your own duvet covers, pillow case, sheets & towels.

HOW TO GET THERE:
TRAVELLING FROM LONDON ~ we have booked TWO coaches to depart at two different times, 3 pm and 7 pm..
Friday - London coach departs Melton St (opposite the Ibis Hotel by Euston station) at 15:00 (3 pm)
Friday - London coach departs Melton St (opposite the Ibis Hotel by Euston Rail Station) at 19:00 (7 pm)
Sunday - London coach departs Smallwood 14:00 (2 pm)
When registering please be sure to select the correct Retreat AND Coach option.

TRAVELLING FROM ELSEWHERE ~ please check about travel arrangements with your local student leader. Please use the Retreat ONLY registration option. Any additional travel costs will be arranged locally if applicable.

Nearest rail station: Uttoxeter. About 4 miles. Taxi rank at station.

CHECK-IN and OUT for anyone not on the London coaches:
Friday - Check in from 18:00 (6 pm)
Sunday - Departure latest 14:30 (2:30 pm)

PRICES as of 6th November the prices now include the late booking fee of £10.
£60 Retreat Only
£80 Retreat AND Coach (from London) - early coach
£80 Retreat AND Coach (from London) - late coach
£50 Retreat Only (Leicester church student members)
Registration deadline The Early Bird deadline was Sunday 5th November at 23:59 (11:59 pm) hours.
Late bookings from 6th November will be taken until 9th November at 12 NOON or will finish when capacity is reached.

Booking Note: Booking more than one person? The registration questions only come up once. Please either book one person at a time OR make sure you record information for each person in each question or use "additional information".

Please click here to pay and register.

We do not wish for anyone to be unable to attend on account of cost and would suggest that if you are in a situation like this you speak to your local leadership team.

REGISTRATION PROBLEMS?
We have had reports of registration problems from those using old iPads and iPhones and from those using Internet Explorer.
For those having problems with iPhones, send text 'Pay ICCM UKI11' to 88802 to receive a link to register.
For those having problems with iPads and computers using Internet Explorer please use a different browser such as Chrome.

REFUNDS: Please note that payments are generally non-refundable. If you need to cancel please let us know as soon as possible. Any refund requests will be processed at the discretion of the ICC Missions Trustees and may incur and administration fee.